One of a kind , a power full rocket soared  in to the space from Satish Dhawan Space center, Sriharikota. On June 5th, 2017 India has successfully launched GSLV MK III D1 with hopes that one day it will be able to carry Astronauts in to the space , a feat has already been achieved by indias immediate neighbor and space rival china. USA and Russia were the other two countries achieved this feat .
At 5:28 PM , It's indigenously built cryogenic engine roared and with 2.2 million pounds of thrust from 2 solid rocket boosters took the Indian behemoth into the space carrying GSAT 19, a heavy communication satellite to GTO or Geosynchronous Transfer Orbit.
ISRO Chairman A S Kiran Kumar said today after the launch "Till today, we had the capability to launch 2.2 tonne satellites and in today's GSLV-MKIII D1 launch, we successfully used electric propulsion system".
Some Facts:
GSLV MK III has a nick name now ,  FAT BOY.
Development started way back in 1994 but had to go through many unforeseeable circumstances.
Weighs 640 tonnes, equal to 200 full grown elephants or 5 Jumbo jets.
 142 feet or 43 meters in height, its even taller than Famous Statue of Liberty (Minus foundation).
It had 11 flight test before to make the rocket operational.
 ISRO now has the capability to launch 4 tonnes satellite in Geosynchronous Transfer orbit and 8 tonnes satellite to Low Earth orbit . Previously they were able to send only satellite weigh of 2.2 tonnes.
Its a three stage vehicle powered by indigenously built cryogenic engine.
Also fueled by 2 VIKAS Engines.
PM and President of India both congratulated ISRO for this remarkable achievement.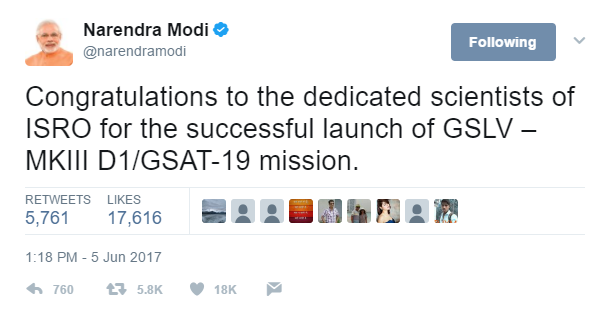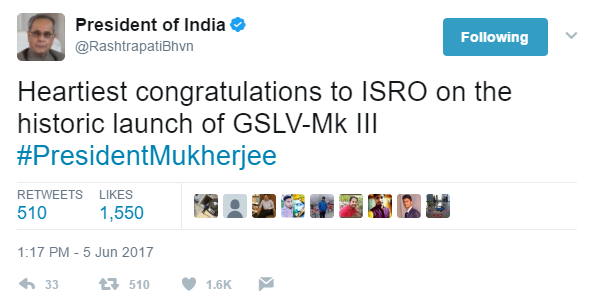 The next launch of GSLV MK III will carry GSAT 20 which will be launched in March, 2018.
To see the entire launch process please click the link below.
India currently uses French Arian 5 rockets to launch its heavy satellites.
Image & Video Credit : DoorDharsan. ISRO