London: France is likely to gift India some of its ex-French Jaguar fighters which are stored in Châteaudun as a token of friendship and also in the hopes for more Rafael order. These aircraft's are likely to used as spare parts for Indian Air forces existing Jaguar fleets.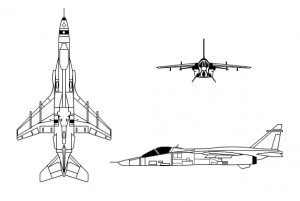 SEPECAT Jaguar is an Anglo-French jet attack aircraft, originally used by the British Royal Air Force and the French Air Force. They were used for close air support and nuclear strike role. They are still in service with the Indian Air Force.
Originally conceived in the 1960's as a jet trainer with a light ground attack capability, the requirement for the aircraft soon changed to include supersonic performance, reconnaissance and tactical nuclear strike roles.
So far over 540 aircraft's have been built and has been procured by RAF, French Air Force, Air Force of Oman and Indian Air Force. But remains active with only Indian Air Force.
France and India both have centuries old trade relations. From 17th century to 1954 France had colonial territories like Puducherry formerly known as Pondicherry in India. Both countries have a Special relationship with each other. France and India relation has become very special since the establishment of strategic partnership in 1998.
Both countries cooperates in various sectors specially in strategic areas such as defense, nuclear energy and space. France was first country to sign nuclear deal with India after the waiver given by International Atomic Energy Agency and the Nuclear Suppliers' Group enabling India to resume full civil nuclear cooperation with the international community.
Their strategic partnership jumped to next level when French aircraft maker Dassault Rafale became the Winner of Medium Multi-Role Combat Aircraft (MMRCA) competition. Competed against top fighters like Swedish Saab Gripen, Russian Mikoyan MiG-35 , Eurofighter Typhoon and the American F-16IN and F/A-18IN Super Hornet.
Dassault Rafale was selected staggering $10.4 bn deal . They were supposed to deliver 126 aircrafts. 18 aircraft's in fly away condition and rest of the 108 would have been manufactured by Hindustan Aeronautics Limited or HAL. They were supposed to be built in India under transfer of technology agreements. The contract for 126 Rafales, services, and parts may have been worth up to US$20 billion.
Later it was decided that only 36 planes will be delivered to India at the price of $8.8 billion. All 36 planes will start to arrive in india from 2019. It will take about six years to be delivered completely. The deal includes weapons and spares. the aircraft will be equipped with Meteor BVRAAM missiles as well.
Even though officially has not been announced yet. Government officials has refused to comment on this. But it is not very surprising as France has not much of use of these aircraft's. These aircraft's will not survive in storage for long terms . They would likely have to be scrapped. France can expect in return more Rafale orders from Indian government.
Meanwhile HAL has built three Jaguar DARIN III prototypes. 60 other Jaguars will be upgraded in the next three years time period. This up gradation will increase Jaguars operational life for about 20 years.
HAL has built 120 deep penetration Jaguar fighters locally known as SHAMSHER(Sword Of Justice) under the technology transfer from BAE systems.
Jaguars have been used in many mission from Sri Lanka Peace keeping mission to Kargil war. The Jaguar remains an important element of the Indian armed forces and will continue to remain so for at least next couple of decades.