London: In a historical ruling Pakistan's supreme court issued an order to remove Prime minister Nawaz Sharif from his post.  Five member panel reached verdict unanimously in the Islamabad court.  Following the verdict, PM Sharif resigned from all responsibilities even though he still denies any wrong doings. Last year Mr. Sharif told the Parliament that he and his family acquired those assets legally before entering the politics.
Court was investigating Mr. Sharif's family wealth following Panama Paper case linking Mr. sharif's family owned offshore accounts.
There were 17 PM before him. No Pakistani PM has ever completed a full five year term. Most of them have been ousted either by military, supreme court, their own party or have been assassinated. Mr. Sharif is not an exception either. His third tenure has been cut short by one year. General elections are currently due in 2018.
His first administration came to an end in 1993 when then President late Ghulam Ishaq Khan dismissed Nawaz Sharif on corruption charges. Mr Sharif challenged the dismissal successfully in Supreme court but later on both were persuaded to step down by army chief Abdul Waheed Kakar.
His second term was more troubling . He forcibly removed Gen Jehangir Karamat and Gen Musharraf took command of the army. You can say "irony or Karma always strikes back" . Mr. Sharif and Gen Musharraf had fall outs over Kargil war which they tried to put the blame on each other. Mr. Sharif attempted to remove Gen Musharraf but army ousted him more of a undemocratic way and exiled him to Saudi Arabia.
Military coups are not new in Pakistan. Numerous attempts were made since 1951 , three of them were successful. Due to that Pakistan had to spend several decades under military rules 1958 – 1971, 1977 – 1988, 1999 – 2008.
Security in the capital was in unprecedented level with commandos, thousands of troops , police personal were deployed.
In April, 2016 Panama paper Leaks showed that how Panama has become an elite tax heavens for Politicians and businessmen from around the world. Mr. Sharif and his children's name were revealed in the list. They were accused of funneling money through offshore business accounts and owning of  foreign assets . But did not mention in the wealth statements in Pakistan.
Documents submitted to prove innocence were later found fake by a British forensic expert . He said fonts with which were in the documents were Calibri which was not available commercially till 2007.
Later it was found that someone or group of people tried to rewrite the Wikipedia page of Calibri font. Well.  what were they thinking !!!
How Pakistanis are reacting to the verdict.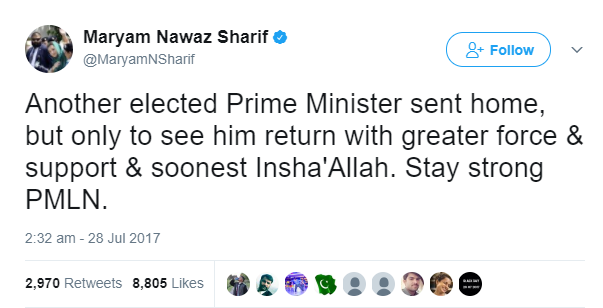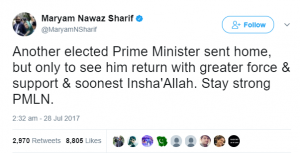 Mr. Sharif's daughter has vowed to return stronger than ever . But anti corruption activists, people of Pakistan are rejoicing.  They have been cheering in the streets, handing out Sweets. Social media has been flooded with comments , tweets.
#PanamaVerdict has been trending on Social media.
"Historic day" said  Shah Mehmood Qureshi, the vice-chairman of the Pakistan Tehrik-e-Insaf party.
Mr Sharif was no longer "eligible to be an honest member of the parliament" said Judge Ejaz Afzal Khan, one member of the panel which found Mr. Sharif guilty.
Some are not still fully convinced yet. Many still believes that Supreme court has been used by the country's powerful military establishment to manipulate the verdict. No one can blame them because the Pakistan military has been charge of Pakistan for half of its 70-year history and traditionally decides the fate of civilian governments.
But the military already enjoys control over foreign policy and defence behind the scene so they do not need to take over,right!!  some says. And frankly speaking people of Pakistan doesn't want another military rule, one said.
Some are even questioning the future of China's dream project CPEC because every year passes by, budget goes up. Chinese are not impressed with the current situation. One can only wait and see what happens next.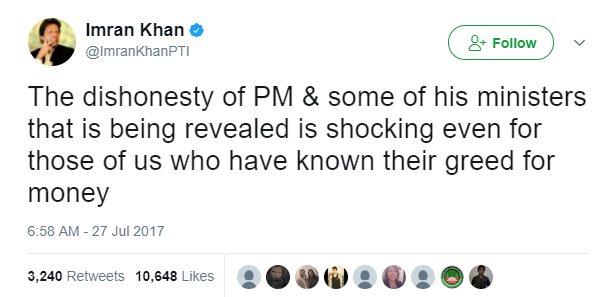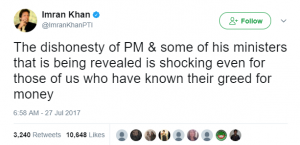 But for common Pakistanis specially younger generation from around the world , this is a victory for Pakistan.  They taking it as a blessing in disguise. They have started to believe that this may be a starting point, beginning of modern Pakistan. A corruption free Pakistan.
As great anti-corruption crusader Imran Khan, Pakistan's opposition leader and a petitioner of the case rightly said It is just a beginning,".
Mr. Nawaz Sharif is not the first high profile person to lose his seat. In 2016, Iceland's PM resigned over Panama paper leak.
Image Credit: Free Press Journal