London: Reliance Jio – India's top telecom operator with about 400 million users has entered the Video conferencing business. Company has formally launched JioMeet app on Thursday. Jio has a good few months recently as it has raised over $15 B in capital. Seven US-based companies have invested so far in the company. Recently JIo was called a clean company by US secretary of state Mike Pompeo after a Pentagon report accused 20 Chinese companies including Huawei, as Chinese military-controlled industries. Reliance Industries chairman Mukesh Ambani also claimed that JIO is the only company in the world that doesn't use a single Chinese equipment.
The tide is turning toward trusted 5G vendors and away from Huawei. The world's leading telecom companies—Telefonica, Orange, Jio, Telstra, and many more—are becoming "Clean Telcos." They are rejecting doing business with tools of the CCP surveillance state, like Huawei.
– US Secretary of state Mike Pompeo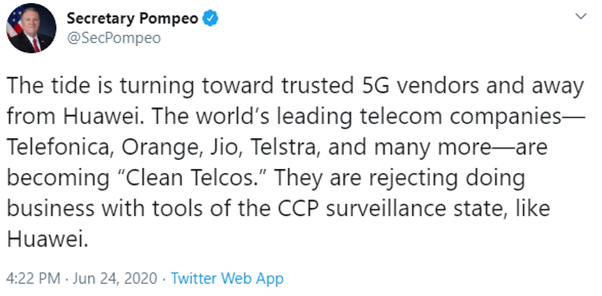 FEATURES OF JIOMEET
* JioMeet offers easy signup, a user can signup with either mobile number or Email ID.

* Meeting in HD Audio and Video quality.

* User can schedule a meeting in advance and share meeting details with invitees.

* A user can host unlimited meetings (which can be password protected) per day.

* It does not impose a short time limit on a call's duration and each meeting can go uninterrupted up to 24 hours.

* Up to 100 participants can join meetings for now.

* JioMeet app is available on Android, Windows, iOS, Mac, SIP/H.323 systems. It also has an Outlook plugin.

* JioMeet supports multi-device login up to 5 devices.

* User can seamlessly switch from one device to another while on a call.

* It has also interesting feature call "Safe-driving mode" for when a participant is in commute.

* The app is open to all users. More importantly, it is free to use.
Video conferencing apps became popular amongst the professionals during the Coronavirus pandemic and Zoom has been the biggest gainer. As of today, one Zoom share price is $261.70. It was launched $36 per share in April, 2019. However, It was not an easy ride for Zoom. Indias Home Ministry had issued an advisory on the use of the app, described it as "Not Safe". Company had been accused of using Chinese servers. Some experts called Zoom a malware. Company was sued by the American church after a hacker allegedly hacked into virtual Bible class to post graphic images of child abuse. Later on the CEO Eric Yuan had to apologize for security problems.
JioMeet has a long way to go before it catches Zoom but from past experiences, one can surely say it has the tenacity to capture the market. The demand for homegrown video conferencing app is rising in India and Jio has entered the market at the right moment.
The app has already been downloaded over 100 thousand times. Jiowave is coming.
Google Play store. JIOMEET
First published in: Bengal Chronicle
To know more about the app, please read FAQ


If you like our website please Subscribe and follow us on Facebook and Twitter.