Check the image on how to set up easily an automatic reply in Outlook 2016, when you are out of the office or on holiday.
In three easy Steps:
Choose the option File from the menu bar in Outlook 2016
Click on Info and then select the Option Automatic Reply
Finally on the window Automatic replies, select the dates and time and do not forget to add the text.
Easy Tutorial in Picture:
i) .Click on "File"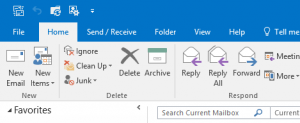 ii) Click on the Info and select the option "Automatic Reply" (as in the image below)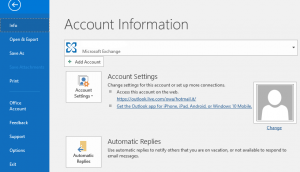 iii) Subsequently select "Send automatic reply" and chose the dates and time and don't forget to add the Txt for your reply!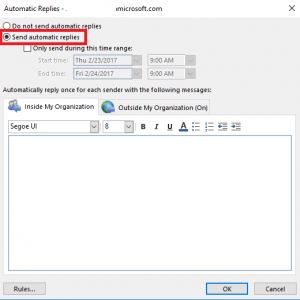 If you log in from your online outlook?
i)Click on the small symbol on the right side of the e-mail


ii)Click on Automatic Replies
iii) Tick the box Send Replies only during this time period, type the dates, add the Txt and for businesses don t forget to add your logo!
Do you want to know how to add a signature to your e-mail for your business and a logo?
Just click on the sentence : How to Create and add a signature to my Outlook e-mail?
In conclusion, if you like our website Subscribe and follow us on Facebook and Twitter for tech updates.