How to create a signature and add a logo to your Outlook e-mail?
If you log in on your online e-mail account, then follow these instructions:
Log in online into your e-mail and click on the symbol Settings

Select Option down at the bottom of the Settings

Scroll down the menu bar, that will appear on the left side and choose : Layout, E-mail Signature

Click "automatically include my signature on new messages I compose", and "Automatically on messages I forward or send to have your signature
every time you compose a new e-mail".
Add the Txt

Add a logo or picture by clicking on the first small Icon next to B and upload it.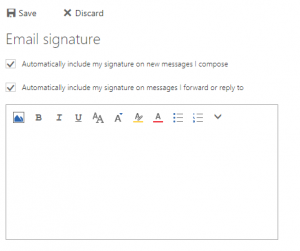 If you like our website, Subscribe and follow us on Facebook and Twitter !