Don't Panic! It happens to the best of us.
If you have sent an e-mail to the wrong recipients or have forgotten important information or worst you have shared confidential data, we have a solution .
I will share with you the secret Outlook settings that could save your job, or your face! Well, I guess it depends on the contents.
Not everyone is familiar with this lifesaver trick, and that's why I am taking the time to add another line, to suggest bookmarking this article and to share it with anyone using a computer.
Your social circle will thank you, perhaps not today or tomorrow but at some point, they will think of you.
How to unsend an e-mail in Outlook:
Click the Sent Items folder
Double click the message so it opens in another window (otherwise the setting won't be available)
Under Message select Actions and then Recall This Message…

You will now have two options:
Delete unread copies of this message
Delete unread copies and replace with a new message


To be notified that the message was recalled, make sure to add a tick in the box: Tell me whether recall succeeds or fails for each recipient.
If you do, you will receive an e -mail shortly after, confirming if the message was deleted or not.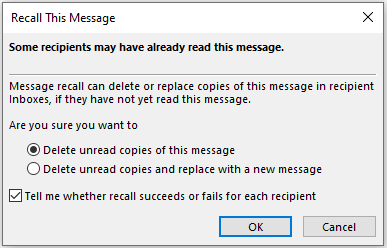 To modify the original message simply select the second option.
Keep in mind, when going for option 2 (replacing or editing the original e-mail), that a message will be recalled/unsent, if the recipient has not opened the e-mail.
It is therefore important to act quickly.
You have now learnt how to unsend an e-mail in Microsoft Outlook.
Outlook Web
The unsend an e-mail button, has also been incorporated in outlook online, but is not as effective in the way it is in the Outlook Desktop version.
Unfortunately, prevention is the only way to recall a sent e-mail in Outlook on the web.
That's because you will need to first enable the feature "Undo Send" . You can then recall the message but only up to 10 seconds after it has been sent.
Enable the Undo Option in Outlook online
Click the cog icon in the top right corner

2. Click on View all Outlook settings

3. Go to Email > Compose and reply> Undo send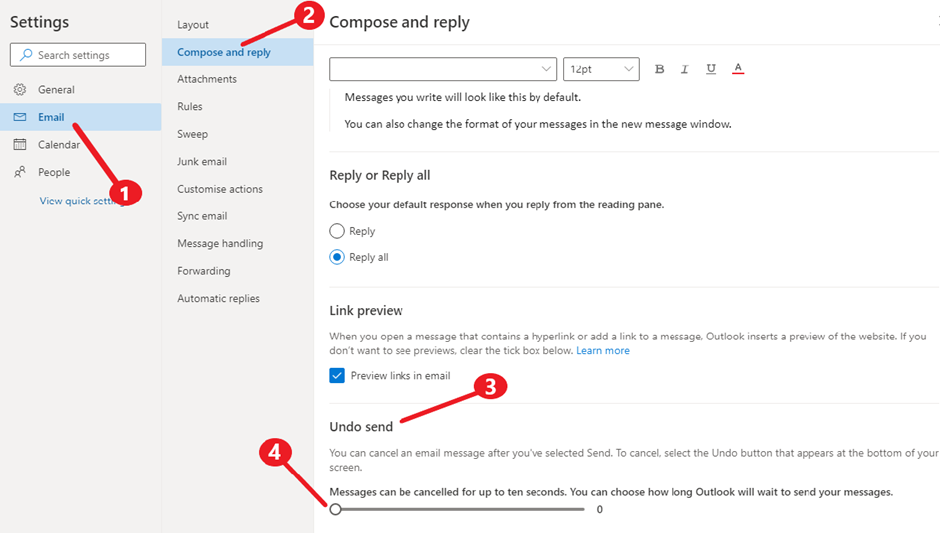 4. Adjust the slider to indicate how long you want to be able to recall the message

5. Select Save

From now on, if you wish to recall a message, sent from Outlook online you will need to act quickly.
You have up to 10 seconds when working from outlook web to click the button Undo, usually appearing at the bottom of the screen:


Don't forget this will only work if the other party hasn't already opened the e-mail.
You will not get a notification e-mail that the message has been recalled, instead the message will automatically move in the Drafts folder.
And now feel free to spread the voice, help another friend to prevent an embarrassing moment!
---

If you have any other suggestions or questions, please don't hesitate to leave them in the comment section below and we will check them out.
Make sure to follow us on Facebook and Twitter and to Subscribe for more tech updates.